You need to focus on growing your business without having to worry about losing it through a lawsuit.
Lawsuits are expensive… you don't want them. They can take from you all you labored over time to build. So avoid them… instead, you can focus your efforts on doing what you know best… running your business.
You need certain legal agreements to legally protect every business transaction… especially the business relationships you go into with contractors, freelancers, clients, customers, brands, etc depending on your business.
Most importantly, if you have an online presence such as a website, or blog… maybe an e-commerce site, you should put a Privacy Policy, Disclaimer, and Terms & Conditions document on your site.
It is a requirement for your legal agreements to be GDPR compliant at the minimum.
Sounds scary, right? Lawyers, legal fees… you don't want to do that?
Where do you start from? This might be the next thing on your mind.
But, don't worry… The good news is that you don't have to think of expensive legal fees or start the journey of looking for a lawyer.
That is why you should know the professional, low-priced, expert solution that will get you up and running within minutes.
Your business is an important source of income… you want to do this as quickly and easily as possible.
So How Do You Get Started?
You will see how to protect your business from lawsuits in 3 easy ways.
The best, and fastest way to protect your business from lawsuits is through already drafted legal templates. All you do is follow the instructions on the templates on how to input your business details… then set it up on your site within minutes.
I recommend legal templates drafted by Amira, a business lawyer, who has been working to legally protect businesses from lawsuits for over a decade.
What are the benefits you get from Amira's legal templates?
Let's see;
The 5 Benefits of Using these Legal Templates;
i) You get high-quality legal agreements used by other lawyers
ii) You get templates that are already GDPR Compliant
iii)You avoid expensive legal fees
iv) You get additional Bonus Templates and freebies
v) You get immediate legal protection in minutes
What are these Legal Templates?
They are;
1. The Starter Legal Bundle –
This is for your website, just click the highlighted template name for the GDPR compliant template of your choice. Click the

Privacy Policy

,

Disclaimer

, and

Terms & Conditions

Template to protect your website and keep it legal. Or, click the Starter Legal Bundle icon below to get these three templates plus 9 free bonuses included for free.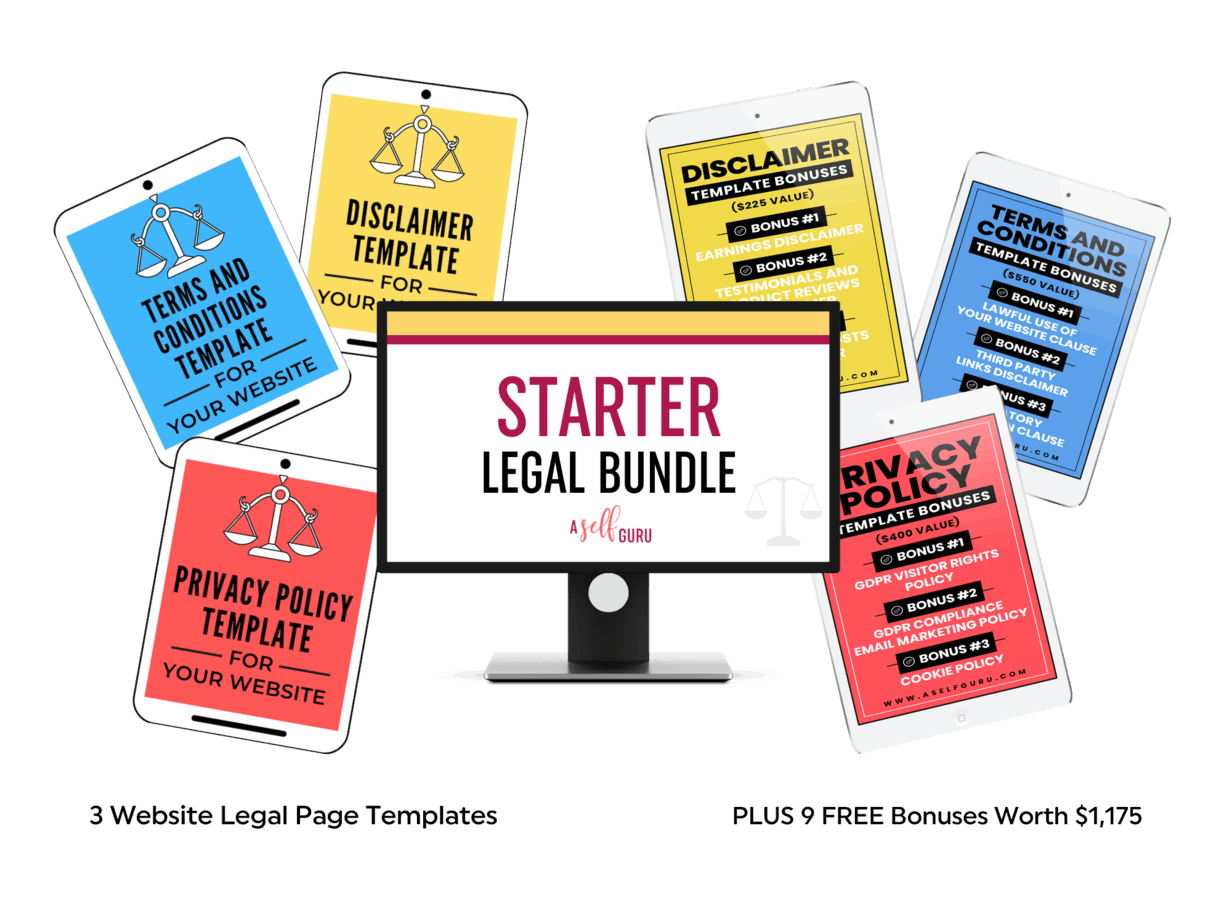 2. The Premium Legal Bundle

–
You can choose the Premium Legal Bundle, which has everything in the Starter Legal Bundle plus 3 additional agreements and 13 incredible bonuses included for free.
The 3 additional templates included are the;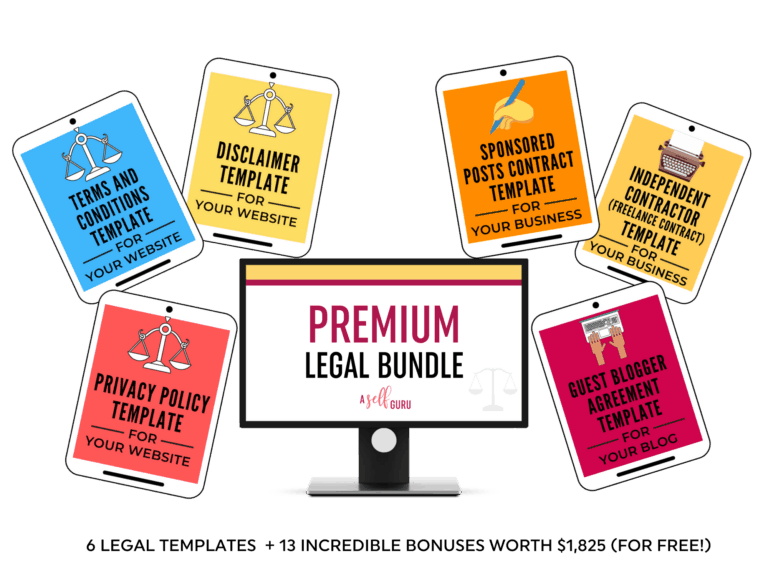 3. The VIP Legal Bundle

– This is your comprehensive approach to legally protecting your online business. The best value deal is the VIP Legal Bundle, which is your GDPR compliant Comprehensive Legal Bundle. This covers all agreements that protect every facet of your online business. You will run your business with peace of mind… knowing that nothing can crop up, that is not already covered. The VIP Legal Bundle contains every agreement in the Starter and Premium Legal Bundles plus 10 additional agreements and 16 total bonuses.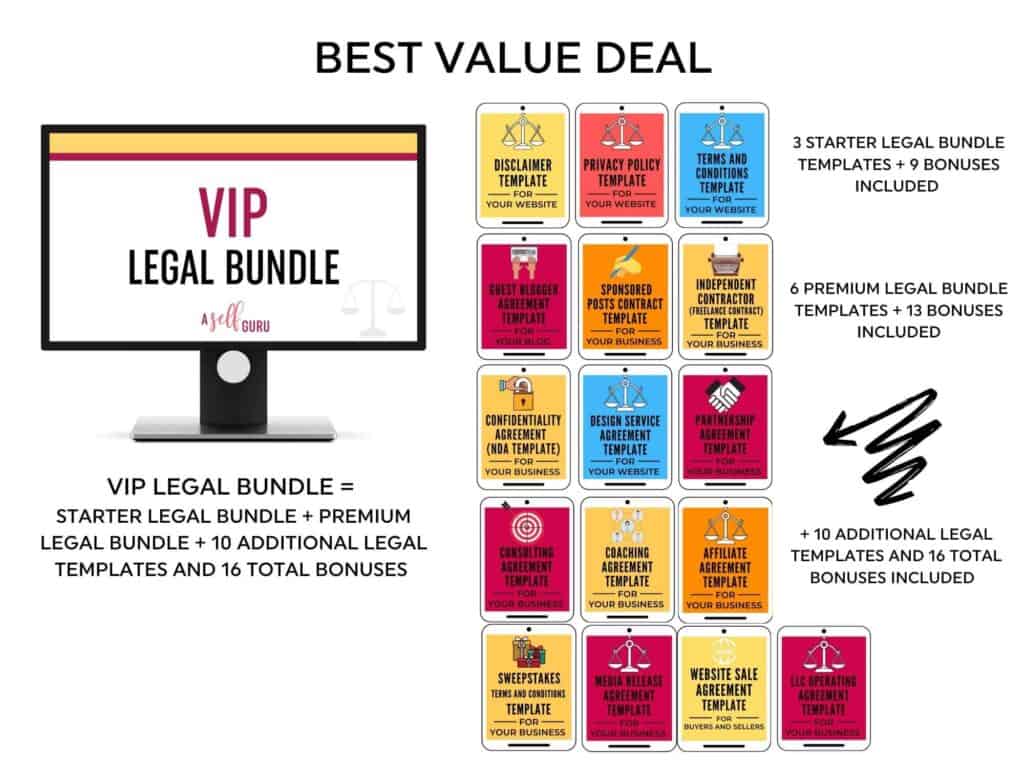 Conclusion
Legally protecting your online business is one of the most important ways of safeguarding your financial assets. Lawsuits can set you back financially… so avoid them.
You must get legally compliant templates covering every aspect of your business, drafted by a Lawyer… don't wing it.
So, take all the stress from yourself by avoiding potential lawsuits. Legal Templates are important business tools to have. Check out my Biz Tools page.
If you need to quickly hire a Freelancer for your business, protect yourself legally from any potential lawsuit by getting the Freelancer Legal Bundle here.
If you are a Coach, you can get an individual contract for your Coaching business. To protect yourself from potential lawsuits by some difficult clients, get the Coaching Agreement here.
You also have the option to upgrade from the Starter Legal Bundle to either the Premium Legal Bundle or the VIP Legal Bundle for wider legal coverage. The cost of the previous bundle will be deducted from the upgraded price so you only pay the differential. How cool is that?